Awards and Achievements
2022 Blue Ribbon Award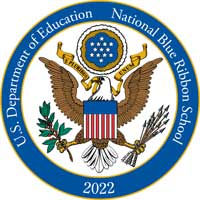 Masada is pleased to announce the honor of receiving national recognition as a 2022 Blue Ribbon School recipient in the category of 'exemplary high performing schools'.
Across the nation, up to 490 schools may be selected for recognition as Blue Ribbon recipients each year. This year 297 schools were recognized in 45 states plus DC and DoDEA.
In the state of Arizona, there were six schools recognized with Masada Charter School being the single charter school recognized for this achievement.
We feel blessed and recognize that consistent striving for excellence toward our vision to "Unleash the Learning Power of Students" produces results that create 'comprehensive, literate, self-fulfilled individuals who will benefit the community'.
2008 Blue Ribbon Award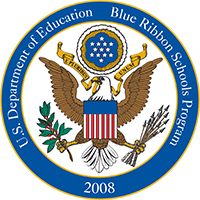 The Secretary of Education named Masada Charter School 2008 No Child Left Behind—Blue Ribbon School. This award honors our school as a model of excellence in assuring that every child learns.
On October 20–21, 2008, the principal and a teacher from our school traveled to Washington, DC, to attend award events at the Crystal Gateway Marriott Hotel.
We at Masada Charter School would like to give thanks to everyone involved in ensuring that No Child is Left Behind.
The U.S. Department of Education has honored Masada Charter School by posting an in-depth look at the schools educational methods. We invite you to read our award letter and informative article:
2007 Arizona Charter School Association "School of Merit" Award
2008 National Association of State Title One Directors Distinguished School "Certificate of Recognition"
2008 United States Department of Education - Office of Innovation and Improvement Recognition as a No Child Left Behind-Blue Ribbon School
2011 Arizona Department of Education "Spotlight on Success" Award
2014 Arizona Department of Education "Achievement in Action" Award